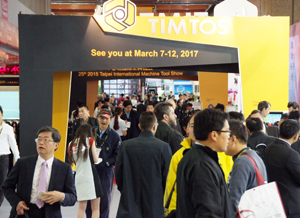 2017 Taipei International Machine Tool Show (TIMTOS) will be grandly opened in TAIPEI Nangang Exhibition Hall, Hall 1, Taipei World Trade Center (TWTC) Exhibition Hall 1 and 3, and Yuanshan EXPO Dome at Taipei EXPO PARK from Mar. 7th to 12th next year. It is expected that about 1,045 exhibitors will use up 5,450 booths. Both numbers of exhibitor and booth hit record high, which shows an exhibition scale bigger than previous editions. With growth in exhibition scale, around 7,500 foreign buyers and 47,500 domestic visitors are anticipated to come to visit, which again, it shows that TIMTOS is the best platform for buyers to come for purchasing latest machine tools and related products in Taiwan.
Beside showcasing the latest products, TIMTOS 2017 will present 4 new show highlights, listed as follows:
1. A record-high exhibition scale;
2. The theme of this edition is "Industry 4.0 + and Smart Manufacturing," which is based on the IT communication technology advantage of Taiwan and in response to global industry trend. Exhibitors' products will focus on the "visualized" cloud service application, "linkable" system integration and "intelligent" machinery, together to realize industrial upgrade;
3. The show continuous to be an international trade show. As of today, world-class companies from more than 10 countries had applied for the show, such as Germany, Switzerland, Italy, Finland, England, U.S.A., Australia, Turkey, Japan, South Korea, India, Singapore and China;
4. International forums covering topics related to smart manufacturing, smart factory, machine tools application in automotive and aerospace industries.
Although the global economy is facing a downturn at the moment, and Taiwan's machine tools exports from January to July this year fell 16.3% compared to the same period last year, Taiwanese companies haven't stopped for making improvement and continue to develop new technologies and products, in order to stand out from the competition worldwide.
Exhibitors of TIMTOS are preparing to present their best and latest products in the show to provide buyers from home and abroad the best products and solutions, making TIMTOS a comprehensive platform that creates prosperous business opportunities. Come check out what's in store from March 7 to 12, 2017!
Exhibit covering the industrial supply chain to be showcased in TIMTOS 2017:
| | |
| --- | --- |
| Venues: | Exhibits: |
| TAIPEI Nangang Exhibition Center, Hall 1, Ground Floor: | Metal cutting machine tool, exclusive exhibition area of "Domestic Controller Integration/ Introduction", Swiss National Pavilion, Germany National Pavilion, industrial robots, the international association of public |
| TAIPEI NANGANG Exhibition Center, Hall 1, 4F Skydome: | Metal cutting machine tool, exclusive exhibition area of "Domestic Controller Integration/ Introduction", Swiss National Pavilion, Germany National Pavilion, industrial robots, the international association of public |
| Taipei World Trade Center (TWTC) Exhibition Hall 1, Ground Floor: | Mechanical components, servo and control units, tools, cutting tools, mold, hydraulic, pneumatic, lubrication and cooling system, CAD/CAM, software, design engineering, measuring and test equipment, industrial lubrication system, industrial cooling system, laser/water cutting equipment, cutting machine, pipe bending machine, wire processing machinery, and other related equipment |
| Taipei World Trade Center (TWTC) Exhibition Hall 1, 2F: | Tools and cutting tools, the international media area |
| Taipei World Trade Center (TWTC) Exhibition Hall 3: | Metal cutting machine tool, metal shaping tools and components section, welding equipment/vibration grinding and surface treatment area, laser/water cutting equipment, cutting machine, pipe bending machine, wire processing machinery, components/parts, tools and cutting tools, CAD/CAM, software, design engineering, measuring and test equipment, hydraulic and pneumatic components, machine tool exhibition and more new faces on both sides of the strait |
| Yuanshan EXPO Dome at Taipei EXPO PARK: | Mechanical punching machine, hydraulic punching machine, air pressure punching machine, shears, folding bed, bending machine, screw nut molding machinery, casting machinery, forging machinery equipment, other metal forming machine tools |
For more information about TIMTOS 2017, please visit: www.timtos.com.tw